GDP Guidelines Chapter 3.2.1
"An initial temperature mapping exercise should be carried out on the storage area before use, under representative conditions.
Temperature monitoring equipment should be located according to the results of the mapping exercise, ensuring that monitoring devices are positioned in the areas that experience the extremes of fluctuations.
The mapping exercise should be repeated according to the results of a risk assessment exercise or whenever significant modifications are made to the facility or the temperature controlling equipment.
For small premises of a few square meters which are at room temperature, an assessment of potential risks (e.g. heaters) should be conducted and temperature monitors placed accordingly".
It has become apparent during inspections that some companies are unclear as to what is expected of them to comply with this requirement in the GDP Guidelines.
This seems particularly apparent with new applicants and those companies with small storage areas, possibly a few shelves or small refrigerators, to which this blog is particularly aimed.
Some larger storage areas may employ the expertise of a third party company specialising in this area.
Guidelines say that mapping should take place, but it does not state how this should be done.
Why map?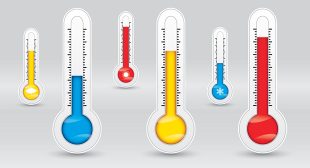 To demonstrate by way of documented evidence that the chosen storage area is suitable for the storage of temperature sensitive medicinal products.
As stated in one of my previous blogs, ambient products are also temperature sensitive.
A mapping exercise of the proposed storage area will ensure that the company will understand their storage area and identify any potential areas therein that may be unsuitable to store medicines.
A mapping exercise will also inform as to where permanent thermometers should be located.
 When to map.
If possible, before stock is stored.
This might not be possible where a storage area is being reconfigured.
In smaller empty storage areas, dummy products could be used to simulate normal operational storage without compromising genuine product, including cold stores and fridges/freezers.
In an empty storage area, a mapping exercise should be repeated when fully stocked.
Data arising from the exercise should be documented and a risk assessment documented with any hot or cold spots identified.
This exercise should then be repeated to take into account seasonal variations.
 How to map.
Firstly, look at the area to be used for storage, identify the highest point of storage not the highest shelf or pallet location.
Identify any potential problem areas such as heaters, lighting, windows and doors, loading bays or high storage areas such as mezzanine floors. These areas should be covered in the exercise.
Don't forget to include areas such as CD rooms, packing areas, Returns and quarantine.
When deciding on a storage area, remember, it can be difficult to cool storage areas down as well as heat them up.
Use calibrated monitoring probes in sufficient numbers dependant on the size of the storage area.
Risk asses the data.
Once the initial mapping exercise is complete, the data should be recorded and risk assessed to determine the most appropriate positions for the permanent monitoring probes and should cover the areas that have the widest temperature fluctuations or indicate areas with any hot or cold spots.
Repeat the exercise to cover seasonal variations or if the storage area is subsequently reconfigured.
A risk assessment would also define and justify the regularity of any future mapping exercises and must also be regularly reviewed, perhaps as part of the self-audit process.
 Responsible Person.
The RP should be party to the whole mapping process and should be fully aware of the mapping exercise findings, risk assessment recommendations and review process.
The RP involvement does not stop at the mapping process however.
The RP should also be able to demonstrate supervision and review of subsequent daily minimum/maximum routine temperature monitoring and recording and should be consulted in the event of any temperature excursions.