A year ago today we launched the MHRA Inspectorate blog.  Now, after 12 months of activity it's a good time to reflect on where we are and what's to come.
Reflections on why we set up the blog
In our first post I stated that a large part of our role in the MHRA Inspectorate involves engaging with our stakeholders, you our audience.
We see a critical part of our role outside of inspections being to keep you informed of the latest changes to regulatory thinking and updates to guidance and requirements. The blog has allowed us to provide you with advice and support, promote innovation and ultimately enhance our role in protecting public health.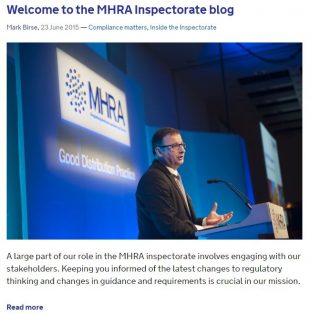 Blog impact and changes seen
Ultimately we see our blog as a way of communicating with and providing guidance to as wide an audience as possible.  Through inspections we are only able to  communicate with one organisation at a time, our symposia allow the message to be delivered to a few hundred organisations at a time, but, our blog is enabling us to  reach many thousands of organisations at a time, right across the world.  Good examples of this are our series of posts on data integrity and our post on inspecting clinical trials - The trial master file which have now been viewed well over 10,000 times each, with a number of other posts also approaching this level of activity.
In terms of outcomes, and real on the ground change, we have started to see companies adapt their approach based on what we have posted.  One great example concerns our recent post on reference safety information for clinical trials.  Although it is certainly too early to mark the post as a success in terms of overall compliance across organisations, we have received consistently good feedback during inspections in terms of how useful it has been in highlighting gaps in quality systems from both the commercial and non-commercial sector.  A specific example of this was seen during a recent inspection of a large pharmaceutical company, as through reading the post they had identified some gaps within their systems.  As a result they had already conducted a full impact assessment and made changes in the month following the blog post going live and prior to their routine GCP inspection. This avoided the site being issued with what would have been a significant inspection finding as the corrective and preventative actions had already been implemented.
Stakeholder feedback
Before starting to pen this post we reached out to a number of our stakeholders, via the members of the MHRA consultative committees and stakeholder engagement meeting (StEM) to ask how well they thought the posts were being received, and whether they'd made an impact and what more could we do.
In the main the feedback has been very supportive of the approach taken, however, there is always more that can be done.
help MHRA share knowledge and good practice
One of the key pieces of feedback received was how do we increase signposting to, raise awareness of, and expand readership of the blog - with many stakeholders saying more should be done to publicise its existence.  We are actively seeking more ways to do this and we would like to call on you, our audience, to help MHRA share knowledge and good practice by letting your colleagues (and CROs, CMOs, contract givers, contract acceptors etc.) know about this source of regulatory information.
International impact
It has been extremely pleasing that the blog has managed to attract a wide audience far beyond the UK and those countries that we undertake inspections in.  More than half our readership is based outside of the UK with the top 10 countries accessing the blog being:
United Kingdom
United States of America
Germany
India
Switzerland
Japan
France
Ireland
China
Denmark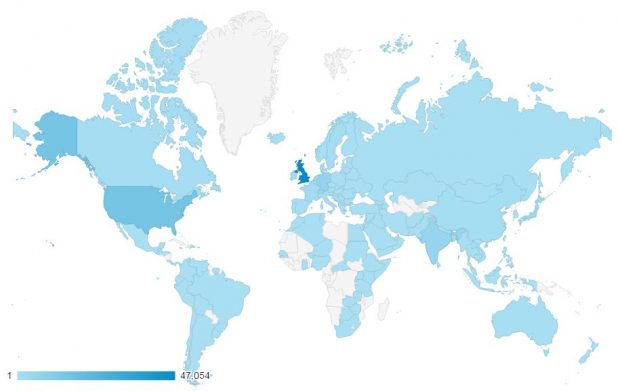 Forward look
Finally, what's to come over the remainder of this year:
MHRA and PIC/S
MHRA and OECD
More on data integrity - in particular across the GXP teams
A series of GCP posts, including a second post on reference safety information, sponsor oversight, risk adaption, and electronic patient-reported outcome (ePRO).
In GMP we have posts coming on API registrations, inspection myths, and the EMA joint audit programme
For GPvP we will have an update on GPvP service provider inspections, RSI in post-marketing pharmacovigilance, and GPvP inspection metrics 15/16
2016 Symposia highlights from across the Inspectorate
I hope you have found the posts published during the last year informative, interesting and on occasion enlightening.  We aim to build on this over the next 12 months and as always I very much look forward to hearing your thoughts on the blog and your ideas for potential posts - email us.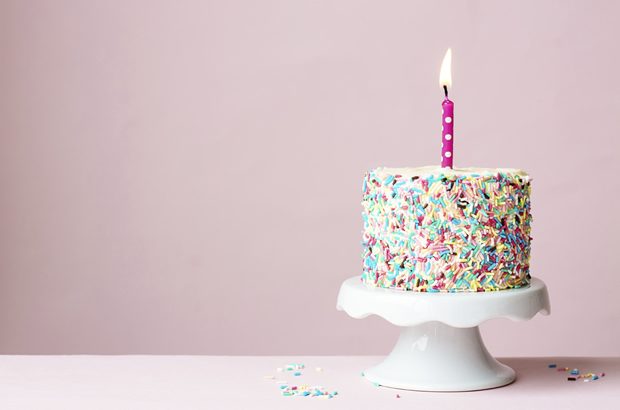 Don't miss the next post, sign up to be notified by email when a new post is published on the Inspectorate blog.
Access our guidance on good practice for information on the inspection process and staying compliant.