The MHRA Inspectorate receives several hundred enquiries via email each year. Answering queries is one of the key ways we support industry. It provides reassurance to our stakeholders, aiding them in their decision-making processes, helping to ensure they don't fall foul of requirements due to a lack of awareness of potential issues and driving compliance forward.
The purpose of this post is to highlight how you can help us to help you when you are making an enquiry to the inspectorate.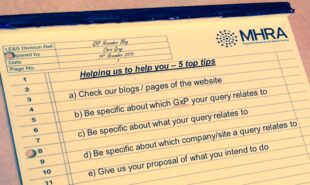 1. Check our blogs and the MHRA pages of the GOV.UK website
The information you require might already be available so it's worth checking the website before sending in a query as this will avoid a delay in you getting the information you need. There is generic information regarding inspections and also some guidance documents.
Good manufacturing practice and good distribution practice
Good clinical practice for clinical trials
Good pharmacovigilance practice
2. Be specific about which GxP your query relates to
Frequently, emails don't specify which GxP an enquiry relates to. This makes it harder for us to route the query to the correct team and consequently the response gets delayed. A good example of this is laboratories. The MHRA Inspectorate inspect laboratories that perform work to GLP, GMP and GCP and the requirements vary depending on which is applicable. Telling us which GxP is applicable helps us to route the query to an appropriate inspector more quickly. If you're not sure which GxP is applicable to the work your company intend to do then provide a brief outline of what the work is and at which stage of development/manufacture that activity is performed.
3. Be specific about what your query relates to
Provide as much specific detail as you are able to about the activity you would like advice on. Providing specific information means that we can match your query to the technical expertise within our team. It also means that when that right person gets the query they are able to answer it without requesting further information from you, avoiding any unnecessary delay in response. Tell us what your question is and which activities it relates to.
4. Be specific about which company/site a query relates to
It helps us to know which site a query relates to. Several companies operate at different site locations and knowing which site it relates to can help us to answer your question. If you've been inspected already, providing the reference given in your correspondence will help us identify your site.
5. Give us your proposal of what you intend to do
While we can provide advice, what the Inspectorate can't do is provide consultancy because that creates a potential conflict of interests with the inspection process and our role as regulator. We can't therefore answer open questions and tell you what we think you should do to address a particular issue. If your are dealing with an issue or managing a change tell us what you are intending to do and how you are intending to manage it. If you've already produced a documented risk assessment or change proposal then attaching a copy helps us understand your thought process. Telling us what you have and have not considered helps us understand your decision-making process. If we have clear information of what you intend to do we can then tell you whether, in principle, your intended steps are ok and suggest other things you may wish to consider.
Following these principles will help us to get your query to the right person in the right team as quickly as possible; getting you the support you need in a timely manner.
Don't miss the next post, sign up to be notified by email when a new post comes out on the Inspectorate blog.

Check out our guidance on good practice for information on the inspection process and staying compliant.