Our inspectors have a direct impact on the safety and quality of the medicines that are taken by thousands of patients every day. We currently have some fantastic career opportunities available to join our team.
Being an MHRA inspector
MHRA employs a wide range of scientific professionals, many of whom are based in one of the largest medicines inspectorates in Europe.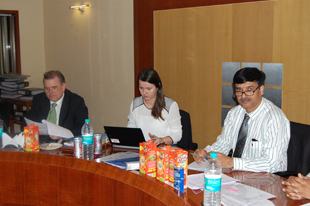 The inspectorate monitors the development, manufacture and distribution of medicines to ensure they are safe, of an appropriate quality, work as expected and are available where and when needed.
Supporting the development of new and novel medicines to treat an increasing number of conditions is a high priority for everyone at the agency, making the work of the inspectorate ever more important.
We protect public health in the UK and Europe by:
verifying that the development path of medicines is clear and robust
ensuring the safety of people who participate in clinical trials
monitoring the manufacture of medicines to ensure they are safe and work as expected
protecting the supply chain to ensure the medicines you buy are genuine and available
continually assessing the safety of medicines as they are made available to the public
ensuring that the UK sets the most appropriate standards that other international regulators will follow (eg through contributions to EU and national legislation and guidance)
providing advice and education to stakeholders to improve systems and compliance
taking action to address non-compliance to safeguard public health
None of this is possible without a multi-talented team of dedicated science professionals. Each of our inspectors has a direct impact on the safety and quality of the medicines that are taken by thousands of patients every day. We are also involved in influencing international policy which drives the way medicines are developed and manufactured across Europe and the rest of the world.
Today the inspectorate is made up of 5 interconnected inspection teams covering all aspects of drug development, manufacture and supply.
We currently employ around 75 inspectors with incredibly diverse skill sets and knowledge. The inspectorate team works alongside enforcement officers, lawyers, policy experts and scientific specialists in addition to a dedicated inspectorate support team.
We employ professionals with a science background who want to make a difference by helping to assure the quality and safety of current and future medicines.
High-profile areas for the agency that you might not know about include:
regulating medicines for pandemic diseases eg bird flu and ebola
major incident investigations such as the clinical trial incident that involved TGN1412
the investigation of counterfeit medicines
providing policy advice for the development of advanced therapies such as regenerative medicines
supporting the development of new medicines helping to make legislation and guidance better and more proportionate
helping to train colleagues in EU regulatory agencies
engaging with stakeholders to improve systems
Inspectors at all grades have the opportunity to contribute to high-profile projects and regulatory developments in the EU and beyond.
...no two days are ever the same.
The role is challenging and interesting...
I have been supported by my managers in my career progression...
Read what our staff say about working in the Inspectorate.
Find out more about our current vacancies.