The annual GCP Symposium was held by the MHRA on 11 September 2019 in Manchester. There was a change of format as a result of feedback received at previous events therefore this year the symposium was smaller and focused on non-commercial organisations (Trusts/Health Boards/University sponsors, Charities and investigator sites). The event was popular with approximately 250 delegates attending.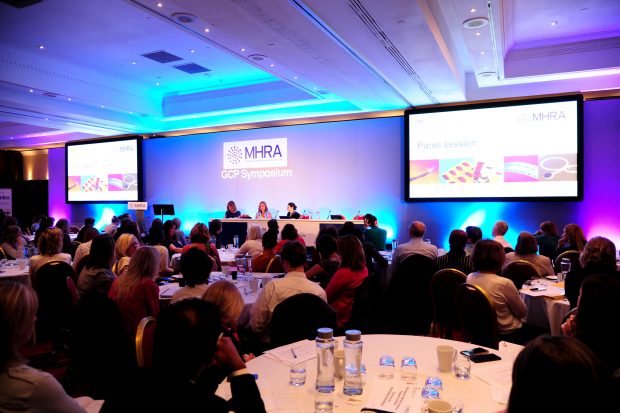 The symposium was co-chaired by Paula Walker (GCP, GLP and GPvP Inspectorate Unit Manager) and Gail Francis, Expert GCP Inspector. and covered a variety of topics throughout the day. The audience heard first-hand from the GCP inspectors the areas of non-compliance continually identified during non-commercial inspections or at investigator sites and how to improve compliance.
Electronic Health Records (EHRs)
Gail Francis and Paula Walker kicked off the day with the expectations and issues that continue to be identified with EHRs, including raising awareness of the MHRA position statement and GCP inspectors blog post on expectations. These included examples of the issues we still see with scanning and certified copies, access (for inspectors and sponsor representatives) and audit trails. The session finished on a positive note with the MHRA looking to work with UK EHR vendors, NHSX and NHS-Digital to help facilitate the future of EHRs and continue to make the UK an excellent place to do interventional clinical trials.
Oversight of Investigational Medicinal Product (IMP) Management
Jason Wakelin-Smith gave a talk on IMP management systems and looking at those which are part of standard of care such as chemotherapy and e-prescribing tools, plus sponsor provided systems such as Interactive Response Technologies (IRTs) which are now becoming ever more complex and making dose adjustment decisions on behalf of the investigator site. Jason raised issues we are seeing with these and the take home message of how it was important for sites to trust but verify sponsors systems.
Investigator Oversight
Following this Mandy Budwal-Jagait then went on to discuss the expectations for investigators' oversight in a clinical trial and the responsibilities of the Principal Investigator (PI) in the ever-changing clinical trials environment. This covered oversight of both resources and outsourcing and included the increasing use of external sponsor provided staff such as homecare nurses to hospital outsourced activities or facilities such as local MRI, pharmacy or labs. Mandy also gave some examples of the latest issues we have seen, but also some hints and tips of the thing's PIs should be aware of and considering for good oversight.
Source Data Collection Systems
Another hot topic is the provision of source data capture with sponsor systems and the issues we are routinely seeing in this area. Andy Fisher gave an in-depth presentation on the various types of systems, the contracts and ownership of the systems versus the data and the expectations for site ability to access and retain not just the data but the metadata and audit trails during and at the end of a trial. This is a diverse and complex area which is continuously developing and expanding, resulting in issues with source data leading to data integrity concerns. Andy's presentation outlined how best to avoid the common pitfalls.
Safety Reporting for Non-Commercials
Dr Beatrice Panico a Senior Medical Assessor from the MHRA CTU joined Jennifer Martin in providing some insight into the safety reporting process and applicable risk adaptive considerations for non-commercial trials. This session covered the specific management styles of safety reporting in non-commercially sponsored trials, identifying the risks and pitfalls with some of these. This then led to an interactive learning session with the audience being posed questions on the use of the reference safety information in non-commercial trials to highlight these complexities and risks.
GCP Labs
The last presentation of the day was a GCP labs session by Michael McGuinness. Michael covered various aspects for non-commercial sponsors to consider from contracting, method validation and data integrity related to laboratory analysis. He reminded sponsors that it was not just primary endpoints that needed to comply with GCP, but any endpoints listed in the protocol and that at the end of every sample there is a participant. Michael took the audience through a case study and covered some common issues and findings identified in the lab, as well as the risk-based approach that can be applied to this area.
Panel Session
The audience had the chance to ask the inspectors questions throughout the day during the inspector surgeries and during the panel session which ended the day. If your question was not answered, it can be submitted via the Clinical Trials Helpline, ClinTrialHelpline@mhra.gov.uk.
Thank you to all who attended this year. We hope to see you again at next year's symposium.
For those of you reading this from a commercial background, don't miss the next joint MHRA/FDA GCP symposium with a commercial focus on 13 and 14 February 2020. Registration details can be found here.