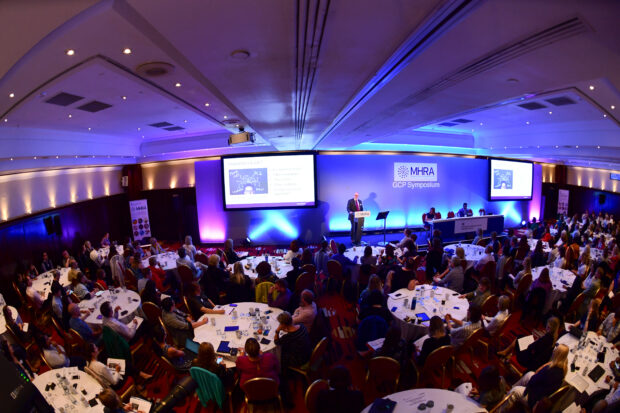 The MHRA Good Clinical Practice (GCP) Symposium 2018 took place in Leeds in September. The event was repeated over 2 days and was sold out to an audience of national and international delegates. Due to demand, the MHRA repeated the event in February 2019. Six hundred delegates attended the 3 events.
The presentations included case studies from recent inspections and feedback on how to improve compliance within these areas.
The topics covered on the day included:
Quality Systems and CAPA effectiveness by Jason Wakelin-Smith, Lead Senior GCP and GLP Inspector. Jason presented a frank account of the types of responses and corrective and preventative action (CAPA) proposed to inspection findings, and how organisations can implement an effective CAPA. CAPA responses such as 'greater care will be taken in future' didn't pass the bar!
Computer Systems Validation (CSV) by Balall Naeem, GCP Inspector, and Andy Fisher, Lead Senior GCP Inspector. Balall and Andy presented recent findings noted in the area of CSV. Particularly: the protocol is the key for the specification of any trial-specific build, and systems should only be deployed and implemented once the necessary approvals have been received from the regulatory authority and ethics committee.
Reference Safety Information (RSI) update by Medical Assessors Lisa Campbell and Beatrice Panico from the MHRA Clinical Trials Unit (CTU), alongside Jennifer Martin, Acting GCP Operations Manager and Lead Senior GCP Inspector. Jenny and our CTU medical assessors discussed the Clinical Trials Facilitation Group (CTFG) Questions and Answer Document on RSI which was published in November 2017. Delegates participated in the session by reviewing an Investigator's Brochure (IB) and determining which events would be reportable as a Suspected Unexpected Serious Adverse Reaction (SUSAR).
Unblinding case studies by Gail Francis, Expert GCP Inspector, and Dr Jean Mullinde, Senior Policy Advisor, Division of Clinical Compliance Evaluation in the Office of Scientific Investigations, US FDA. Gail and Jean provided 22 examples of ways that a trial can be inadvertently unblinded, but ended on a positive note with an example of what good practice looks like from a recent inspection.
Investigational Medicinal Product (IMP) case studies and root cause investigation was presented by Mandy Budwal-Jagait, GCP Inspector. Mandy presented two IMP Management critical findings, delved into the root cause(s) of these issues and discussed how to provide an effective CAPA once the root cause(s) had been truly identified.
An update on the strategic review of GCP inspections considering emerging technologies was presented by Paula Walker, Acting Unit Manager Inspectorate and Lead Senior GCP Inspector. Paula discussed the number of different systems encountered on inspection and as a result the MHRA GCP inspectors have been reviewing their GCP inspection strategy in response to a changing clinical trial environment to ensure public health is safeguarded and the regulatory burden remains appropriate.
Feedback from the events was extremely positive with over 90% of delegates rating the event as Excellent or Good.
Delegates also had the opportunity to discuss queries with the inspectors during the inspector's surgery, as well as ask questions to the panel.
Whilst we endeavour to answer as many questions as we can, it is not possible to answer all questions submitted on the day. Therefore, we will be reviewing the questions sent to determine if future blog posts might be helpful. If you would like a response to your query, please send it to the Clinical Trial Helpline (clintrialhelpline@mhra.gov.uk).
You can follow take home messages and highlights of the event using the following Twitter handles: #MHRAGCP18 and #MHRAGCP19
Upcoming events
Following delegate feedback, we have decided to hold a separate symposium for non-commercial organisations this year, with an event planned for spring 2020 for commercial organisations.
MHRA Non-Commercial GCP Symposium

Date: 11 September 2019

Venue: The Midland Hotel, Manchester
The presentations will be tailored specifically for the audience, covering the following topics:
Electronic Health Records (eHR)
Oversight of IMP
Investigator Responsibilities Conducted by Third Parties
Electronic Patient Reported Outcomes (ePRO)
Safety Reporting for Non-Commercials
GCP Labs
Visit www.mhragcp.co.uk to reserve your space and for further details.
Details for the Commercial GCP Symposium will be published soon.  Subscribe to the MHRA Inspectorate blog to keep updated.