The supply chain for Active Pharmaceutical Ingredients (APIs) has been increasing in complexity for a number of years with the potential for a number of players to be involved, with multiple possible routes around the world available (significantly more than 80!).
Where complex supply chains are in place, along with a limited understanding of the overall picture, the risk of falsified APIs entering the supply chain unnoticed is significantly increased.
A number of controls have been implemented within Europe to minimise the risk of falsification and the two blog posts in this series highlight a number of these and provides background on what is required of the various parties involved.
This first blog post concentrates on the players in the API supply chain.
API manufacturers, importers and distributors requirements
Registration
The principle control implemented was the registration of companies that are either API Manufacturers, Importers or Distributors.  The flow chart below is taken from the 2017 Orange Guide page 489 and shows clearly the registration requirements for UK companies.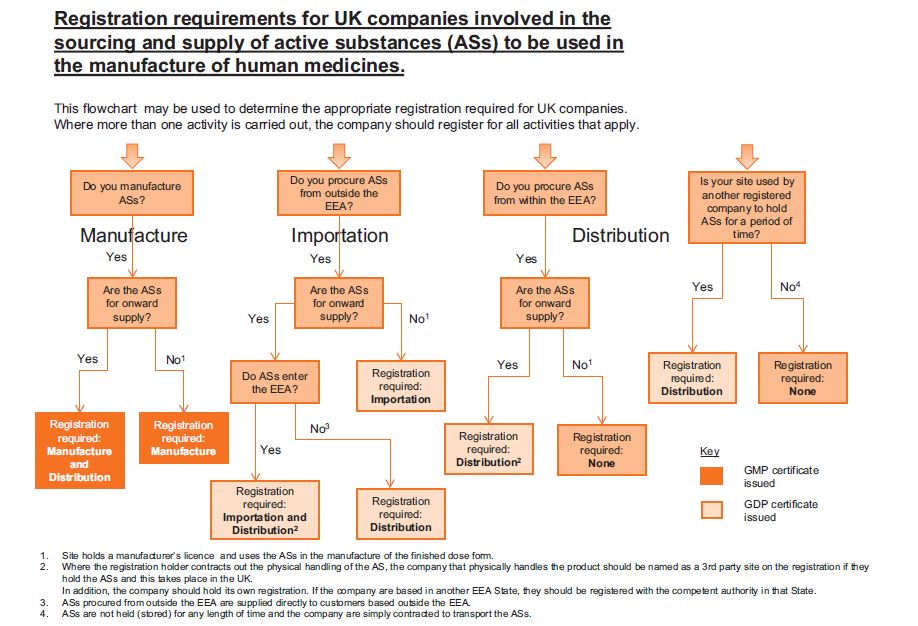 MHRA inspection
The MHRA has commenced a program to inspect all API importers and Distributors based on a risk based assessment (API Manufacturers are already subject to Inspection).  The chart above also shows whether the site would receive a GMP or GDP certificate following a successful inspection.
For note: A company may be registered but not yet have a certificate as one will not be issued until after an inspection has occurred.
GDP requirements
It also required that all activities are in compliance with the "Guidelines on the principles of good distribution practices for active substances for medicinal products for human use" (Published in the UK as the 2017 Green Guide).  The registrations should help prevent falsified APIs entering the supply chain and the GDP requirements should ensure that the quality of the genuine APIs is maintained and that they reach their intended destination with the required documentation.
Next post
The second part of this post will cover the finished drug product manufacturer requirements - keep an eye out over the next few weeks.

---
Don't miss the next post, sign up to be notified by email when a new post is published on the Inspectorate blog.
Access our guidance on good practice for information on the inspection process and staying compliant.