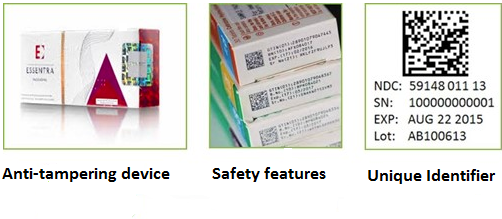 The safety feature provisions enter into force on 9 February 2019. Member states are required to implement the new falsified medicines safety features for almost all prescription-only medicines which aim to prevent falsified medicinal products from entering the pharmaceutical supply chain. The safety features are placed on the packaging of the respective medicinal products by the pharmaceutical manufacturer and consist of the following:
a unique identifier, in the form of a 2D data matrix barcode, allowing the verification of the authenticity and the identification of an individual pack of a medicinal product
anti-tampering device
The pharmaceutical manufacturer (on behalf of/or the marketing authorisation holder) must upload the information from the 2D data matrix barcode into the European data repository after certification and before the product is released for sale or distribution.
The 2D barcode will then need to be scanned and the anti-tampering device checked at various points in the supply chain to verify that it is an 'authentic' medicine. On supply to the patient or upon export or conversion, the unique identifier must be 'decommissioned' by scanning the 2D barcode and removing the serial number from the FMD system, ensuring that the anti-tampering device is intact when the medicine is dispensed to the patient.
Handling of Alerts
The MHRA issued a statement yesterday concerning how to handle the error messaging and false alerts that may occur in the system due to a number of reasons. It's important for end users to follow the advice referred to in the statement and where checks lead to a suspected falsified pack then it is to be reported under the Yellow Card Scheme by entering details in the 'fake' category.
Where the marketing authorisation holder (or manufacturer on their behalf) is notified by the alerting system that a data error has occurred against their products, they are to notify the MHRA if upon further investigation falsification is suspected.
Guidance
Over the last few weeks there have been several guidance documents published on/linked to Gov.uk, including the following:
Guidance for Wholesalers
Guidance for parallel import license holders
Homecare
Additional guidance on Article 23 providers, Healthcare Institutions and Article 26 exemption
RPS professional guidance for pharmacists
For more information see the FMD Safety Features- Newsletter series.
Work continuing
Any questions about FMD and the Safety Features not covered by published guidance can be directed to fmd.safetyfeatures@mhra.gov.uk.

If you are a manufacturer and have a query regarding the compliance of your packaging, or any other FMD GMP specific question, please email  FMD.GMPenquiries@mhra.gov.uk

Any GDP FMD enquires can be addressed to the GDP inspectorate mail box at gdpinspectorate@mhra.gov.uk.
Don't miss the next post,  sign up to be notified by email when a new post comes out